Natural, Fast-Acting Pain Relief Gel for Arthritis, Body Aches, Joint Pain, Sprains and more
For centuries the Native American tribes of northern Mexico have been using plant extracts for the natural relief of pain. With that knowledge and modern science, we've developed a unique pain relief formula by blending those plant extracts with safe natural active ingredients. The result is a fast-acting pain-relief gel that provides temporary relief for:
Arthritis
Muscle soreness
Back Pain
Sports Injury
Migraine Headache
Cluster Headache
Simple Backache
Bruise
Joint Pain
and other related pains
Sore No More analgesic begins to work immediately once massaged onto affected areas with its unique heating and cooling ingredients. Our special blend of six natural plant extracts in combination with menthol, capsaicin and witch hazel alleviate pain the natural way.
Skeptical of how good Sore No More is? Read what our customers say: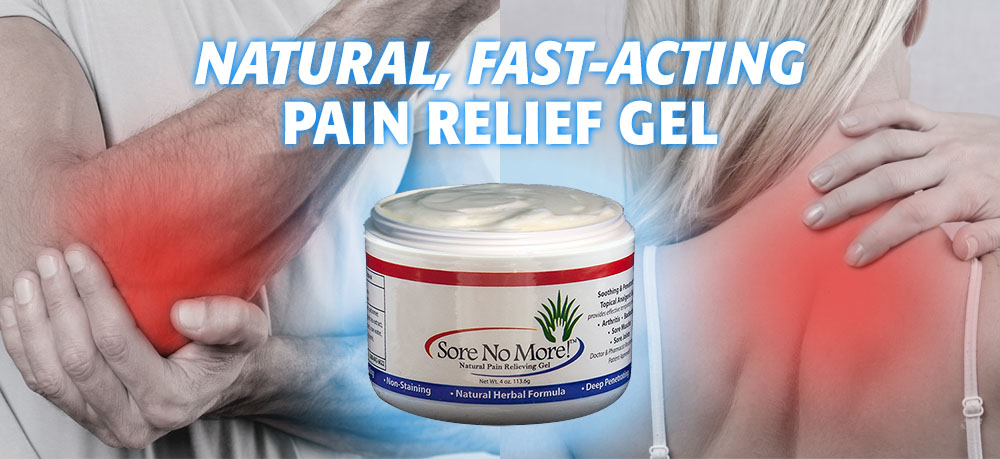 ATTENTION VALUED CUSTOMERS:
Our offices will be closed on the following dates while our staff enjoys the holiday season with their families:
Fall/Thanksgiving Break: Fri., Nov. 18th — Sun., Nov. 27th
Christmas Break: Fri., Dec. 23rd — Mon., Jan. 2nd
We appreciate your patience and understanding with extended lead times during the coming weeks. Wishing you all the best as we bring 2022 to an end.
Order from these convenient sizes:
2 oz. Jar
$9.50
4 oz. Jar
$16.75
8 oz. Jar
$30.75
8 oz. Flip-top Bottle
$30.75
1 Gallon Jug
$305.00
Cases of 12
$95.00 – $307.50
SECURE SHOPPING:
To enhance browsing speed, our information and product pages are not hosted on secure servers. But once you enter Checkout, all pages and transactions are hosted on Miva Merchant's state-of-the-art secure servers, guaranteeing your safe shopping experience.
NEW BUSINESS HOURS:
We are now operating under new business hours, Monday - Thursday from 8 am - 6 pm Mountain Time. All orders placed after 1 pm on Thursday will be processed for shipment on the following Monday.